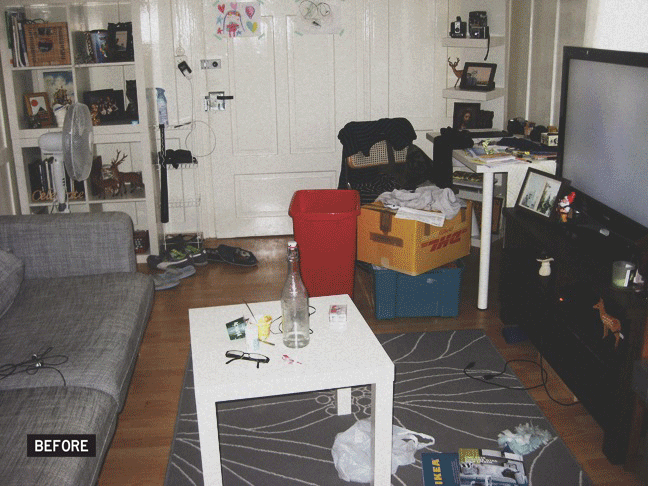 Saturday
was a beautiful sunny day, were we out enjoying the weather? No, we were indoors cleaning and organizing like mad! Our home was in need of, as you can see, some help.
Just for the record our living room is hardly EVER that chaotic.
Not only did each room of our home need some cleaning/organizing, but it was finally time to take down the guest bed and get our home back to normal.
So that was our saturday. We first had to organize our storage room for the bed parts to fit back in, then take down the bed, organize and clean the living room, bedroom, back room etc. Our home has never been so organized! We even went through our clothes drawers and got rid of clothes we don't wear anymore. It was a for sure Fall's version of Spring Cleaning. It felt good and Jachen and I make a great team.
As much as we loved having our summer guests, we are happy to have our back room back to normal...no huge bed taking up the whole room. It still feels kind of weird to have all the space back in our home. It's been 3 months since we have seen the whole floor in that back room.
Cleaning and organizing during the process and after the process is one of my favorite feelings. I love the feeling of organizing, making the home better and then when it's done being able to sit back and enjoy a clean home.
Saturday evening
after we ate delicious pizza and skyped the Tachers, we made cookies and watched
Chronicle
. A pretty sweet movie. Have you seen it? If you want a little bit of intense Sci-Fi that is a great one.
Sunday
after church Jachen and I watched the old
Hitch Hikers Guide to the Galaxy
BBC tv series, which is wacko, then later that evening we skyped with the Florida Farrars minus my bro. It was great talking to my sister in law Lisa and the kiddos.
Though our weekend wasn't "exciting" or spent out seeing this beautiful country, I am happy to have spent these last couple days with Jachen being happy, making our home a happy place, and seeing family. The great thing about weekends is you can do whatever you want or need to do even if that means spending a beautiful Saturday indoors cleaning because there is always another weekend just around the corner to do something completely different. Our time here in Switzerland is fleeting and the number of weekends left is getting smaller...I hope to continue to fill our time left with meaningful weekends...indoors or outdoors. Luckily some great months are on their way, months that will forever be in our memory as the time we spent living in Switzerland.
As I get older I realize how precious my time is. I don't want to waste time just as much as I don't want to forget how I used that time. I am happy to have this blog/journal to capture memories, week days and weekends that are happy times. I am happy to have this outlet that allows me to look back and see what I did in the past so that I won't forget.
>>>M