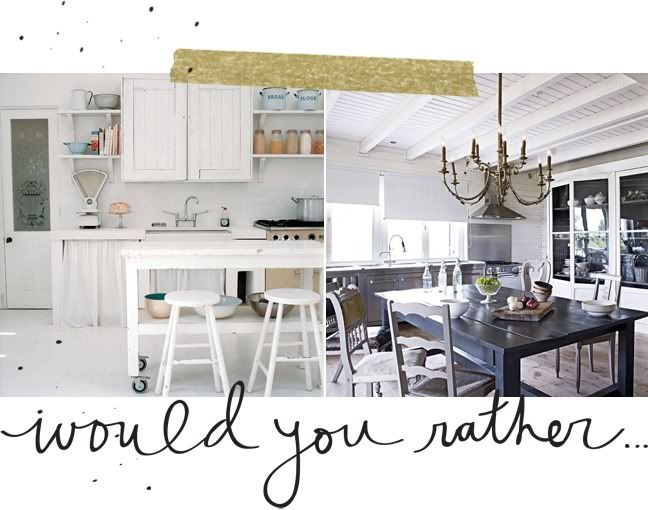 It has been toooo long since I have posted a
Would You Rather
post. Of all the images I hoard, home design has to be the most collected/hoarded. And then within that collection kitchens are the must frequently saved. I have mentioned before that an amazing kitchen is my favorite room of the home. So here I am with another Would You Rather kitchen.
These kitchens each have something pretty special about them.
Remember how I love white and white floors?
So the kitchen on the left from floor to ceiling covered in white would be my pick. The vintage feel to the white kitchen is breezy feeling and feels like an inspiring kitchen to cook those good ol home cooked meals in. Plus those filled mason jars??! A dream. AND a peach/tan oven? Yes please. AND I love how the table/island in the middle is on wheels. Smart. The kitchen on the right has great ceiling beams and I love love a kitchen with stainless steel appliances, counters and cupboards. I like the mix between old farmhouse and stainless steel. That chandelier is fun too.
Which kitchen would you rather spend your time in?
Find more Would You Rather posts, here. Kitchen source, here.
>>>M